TPO Membranes
Our latest work...
TPO Membranes - Repair, Maintenance and Retrofit
Flat Roof Solutions - TPO Roofing Membrane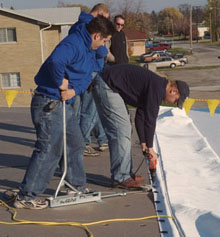 No mater what flat roofing system you have, if you have a problem roof we have a solution especially for TPO Membranes . We offer any solution based on your flat roofing style. Flat Roofers goal is to help preserve our environment and your pocket book. Many roofs whether Steel, Metal, Tin, Tar and Gravel, BUR, 2 ply and 4 Ply Built-up roofs, Rolled Asphalt, Single Ply PVC, TPO Membranes or EPDM or made of just about any Roofing Materials that have begun to leak for various reasons can be salvaged with a retrofit system. So let Flat Roofers inspect your roof for free and help you identify the most cost effective way to protect your most important asset - your roof.
TPO Membranes - Diagram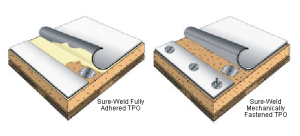 If your flat roof is leaking from blistering, seam splits or has ovious damage like serious ridging- Flat Roofers has a solution for you. Your roof may need a repair, maintenance or require another solution like a TPO Membrane or Duro-Last PVC membrane. Additionally if your roof is beyond maintenance or is >20 years old, you may require a roof retrofit.
Here is your roof
Here is your roof with our solution
For more information or to discuss how Flat Roofers can help
with your Flat Roof contact Flat Roofers.
---
Telephone:
Toll Free 1.800.307.3719
Monday to Friday 9:00am to 5:00pm (EST)
Saturdays, Sundays and holidays please leave a message.
A customer representative will contact you within 24 hours of the first business day.
Email: info@flatroofers.ca
Flat Roof

Services
Important Information
Our

Testimonials