Learning Centre
The Flatroofers Learning Centre combines information from our many years in business
and is aimed at helping you make informed decisions when it comes to caring for your roof
How to Choose a Commercial Roofing Contractor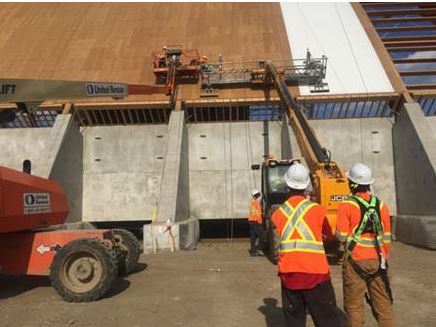 Online advice often encourages commercial property owners to get at least three quotes from commercial roofing contractors before making a choice. While it makes sense to ensure that you are not being price-gouged, it can backfire when you request multiple bids with the intention of approving the lowest bid. Money is hard to come by, but price is not the most important factor to consider when it comes to commercial roofing.
We have seen it many times. Property owners would opt for the lowest price, just for their roofing to last a year or two before calling Flat Roofers Commercial Roofing to repair poor seams or replace hail-damaged roofing membranes. It could end up costing double what it would've cost to just have the job done properly in the first place. Focusing on price over product quality and workmanship often results in poor quality. If you are only prepared to pay the lowest price, you must expect to receive minimal service and quality in return.
On the other hand, experienced commercial roofing contractors may provide somewhat lower bid due to their high level of efficiency and expertise.
If you need to restore an old industrial roof, or install a new commercial roof, you must consider workmanship first and foremost, and then product quality. Expenditure should be weighed against the direct and indirect benefits of these factors to your business.
Defining Quality of Workmanship
In the context of commercial roofing, workmanship is a reflection of a person's self-worth in the application of technical skills in the installation of the relevant roofing product, making as few mistakes as possible to ensure the longevity of the roofing solution. When looking for a quality commercial roofing contractor, consider the following skills and attitudes:
1. Technical Skills
When you hire a professional, you want to be sure that they know what they are doing. While there is significant overlap in the installation of different types of roofing systems, which require similar skills, some membranes and installation scenarios demand that the installer possess specific skills. For that reason, it is important to hire someone who is an authorized installer for the type of roofing you are going to consider installing. In order for a product to be installed properly with minimal if not no human error, a competent installer is of the essence.
2. Conscientiousness
One can often tell that an installer is conscientious from the first interaction with them. Conscientiousness goes above and beyond skills and talent, and it shows in the results of their work. The individual will take time to understand the requirements of the project, and take their time to apply the appropriate solutions with care and pride. It is not a matter of sacrificing code-compliance, safety and quality in order to complete in the fastest time possible. While experienced contractors may also get the job done quickly with the help of qualified employees, they will not do so at the expense of a quality job.
3. Self-worth & Integrity
A contractor with self-worth and integrity doesn't only focus on delivering a job well done. They are personally committed to delivering solutions that benefit their clients, and delivering effort that ensure the clients receive their money's worth. These are the individuals who constantly work at enhancing their skills and finding new ways to show they care.

When you're looking to hire a commercial roofing contractor, look for these skills and attitudes; someone who owns a commercial roofing company that is serious about hiring good qualified installers and who takes pride in what they do.
Defining Product Quality
A quality commercial roofing product is designed to have a significant lifespan and handle adverse climatic conditions. It consists of quality materials. But how do you choose the best quality product amidst the many different competing brands, each with their own range of lines? A quality commercial roofing product:
should last for at least 15 years with proper maintenance and minimal repairs caused by product deterioration.
should have a warranty.
manufacturer should have a proven track record with long-term installations.
Case

Studies
Important Information
Our

Testimonials