Ottawa Commercial Roofing Contractor Installs Retrofit Waterproofing
Since 1985, Flat Roofers has established a reputation as the foremost Ottawa commercial roofing contractor who retrofits single-ply Duro-Last® PVC membranes over existing roofs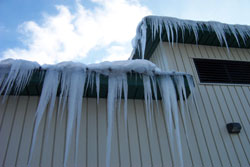 Flat Roofers, your preferred Ottawa commercial roofing contractor specializes in retrofit waterproofing of industrial buildings. Now you don't have to stop business operations while your roof is being ripped up, as they will retrofit the waterproofing over your existing roof. Experts recommend installing Duro-Last® PVC roof coverings before the heavy rains of fall and winter snow as water seeps into your roof's cracks, becoming frozen. If you leave it too late, spring's warmer temperatures will cause the ice to melt, damaging your inventory and floors.
Since 1985, Flat Roofers has established a reputation as the foremost Ottawa commercial roofing contractor who retrofits single-ply Duro-Last® PVC membranes over existing roofs. This single-ply Duro-Last® PVC is ideal for flat roofs or low-sloped roofs, as it is resistant to strong winds, chemicals and fire. Highly-reflective, it is virtually maintenance-free, which is why owners of industrial buildings prefer single-ply Duro-Last® PVC, and why contractors have installed more than 2 billion square feet of it across Canada and the USA.
Apart from the material's strength and durability, it offers many other benefits related to the installation.
It is a cost-effective commercial roofing solution.
It causes minimal disruption to your business operations.
It requires minimal maintenance.
Flat Roofers is a reliable Ottawa commercial roofing contractor who offers guarantees of 15+ years on their world-class roofing materials. Attention to detail and impeccable workmanship are their quality trade marks.
When your roof needs attention, look no further than Flat Roofers as your Ottawa commercial roofing contractor of choice.