Case Study: Churches
Our latest stories...
Case Study: Churches
Church Roofing Systems
When the children at Summerville Baptist Church in Summerville, South Carolina heard the story about Noah and the Ark, they too wished that they had had a large ark in order to escape the leaky roof that covered their classrooms.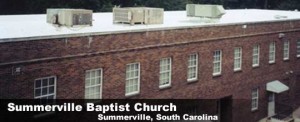 Summerville Baptist Church in Summerville, South Carolina
Ponding water on the gym's existing modified bitumen roof and the built-up roof on several classrooms had created leak problems at the church. With the buildings in constant use, officials at the church worried an accident would occur where there was a leak, endangering the approximately 175 children that attended the church's preschool and Sunday school. Dodging buckets or closing down the facility in order to make repairs on the roof were not options the church wished to consider.
Furthermore, the church facilities contained office and school equipment such as computers that needed to be protected from water damage as well as a brand new parquet floor in the gymnasium.
A long-term, leak-proof remedy was needed to keep the Summerville Baptist Church buildings high and dry.
According to John Nettles, in charge of maintenance at Summerville, several types of roofing systems were reviewed during the initial phases of the re-roofing project.
"We looked at built-ups again, hypalons, spray-on coatings as well as thermoplastic single-ply," recalled Nettles.
Officials at Summerville weighed their options and the benefits of each type of system before determining that the Duro-Last roofing system would be the best choice.
As an authorized Duro-Last contractor, John Congdon, owner of Congdon Roofing, Inc. in Charleston, South Carolina, knew that Duro-Last would be the ideal solution to Summerville's roofing dilemma.
"We knew that the mechanically-attached Duro-Last single-ply roofing system would be a perfect fit for the Summerville Baptist Church facilities," said Congdon. "Both of these problem roofs had parapet walls to resolve leaking problems that normally occur in walls made of mortar."
Another benefit of the Duro-last roofing system is its prefabrication. With 80-85% of the seams being factory-welded at one of the Duro-Last manufacturing facilities, the Congdon Roofing crew had less rooftop field seaming to complete, thus making the roof easier and quicker to install.
"Our crew could work more efficiently because of Duro-Last's prefabrication," noted Congdon. "Plus, installing Duro-Last is clean and no hazardous materials are used. That was very important to church officials because they did not want any messy tar kettles on the roofs or near the buildings that were occupied during the installation."
Warranty protection was also a feature that sold Summerville Baptist Church on Duro-Last. The Duro-Last warranty does not exclude ponding water or consequential damages. So church officials did not have to worry about the minor ponds associated with low-sloped roofs.
Last but not least, the Duro-Last roofing system is virtually maintenance-free, which allows Nettles to work on other important maintenance projects at Summerville Baptist Church.
Because church officials at Summerville appreciated the benefits of Duro-Last and the professionalism of Congdon Roofing, Inc., they also ordered a new Duro-Last roofing system for the church's educational center, administrative offices, and carport.
"They liked the Duro-Last roofing system and our quality workmanship and customer service so much, that when Northbridge Baptist Church in Charleston, South Carolina needed a roof for its nursery building, Summerville officials recommended using Duro-Last," said Congdon. "It has really paid off for us."
And the preschool and Sunday school children, like Noah of long ago, are safe and dry!
---
"Duro-Last really came through for us,
now our buildings are leak-proof and worry-free!"
---
Telephone:
Toll Free  1.800.307.3719
Monday to Friday 9:00am to 5:00pm (EST)
Saturdays, Sundays and holidays please leave a message.
A customer representative will contact you within 24 hours of the first business day.
Email: info@flatroofers.ca