Learning Centre
The Flatroofers Learning Centre combines information from our many years in business
and is aimed at helping you make informed decisions when it comes to caring for your roof
Roof Restoration
What is Roof Restoration?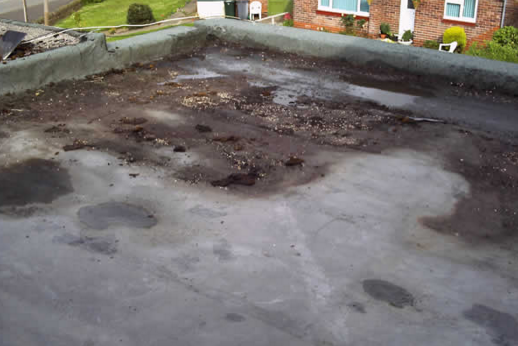 When you ask Fat Roofers Commercial Roofing in Toronto to restore your roof, we will look for ways to restore your deteriorated roofing to an "as new" condition. Some types of restoration would involve removing damaged materials and replacing it with like materials. However, in the case of roofing restoration, the existing materials are usually not removed; instead, we would add additional roofing materials to what is there.
The acid test for roof restoration is that it must be durable. That is why we apply new roofing to structurally sound roofs. In some cases we will have to remove small parts of the roof and replace it again before we start with the overall roof restoration. However, if your roof needs too much of this type of attention, it would be more economical to replace the entire roof.
What is Roof Restoration?
During a roof restoration, we will apply highly-engineered roof coating products over your existing roofing system. It can be used on MOD-BIT, EPDM, TPO, PVC and even SPF roofing systems.
Benefits of Roof Restoration
When you need a new roof, you have two options:
Covering the existing roof with a new roofing material
Tearing off the old roof, and installing a new roof.
In most cases, tearing off the old roof to install a new one is generally more expensive. However, if you already have two or more roofing systems installed, Toronto building codes will require that it be torn down before you can install a new system. In most cases, roofs that might typically require to be torn-off, might actually be in restorable condition. That means that you will save on a loud, messy and costly process, without the debris and save money at the same time. And if you use a quality coating and good roofing contractor (like Flat Roofers Commercial Roofing), you will also benefit from great warranty terms.
Additionally, a quality roofing system that is well-restored, is sustainable for life. Simply have it cleaned up and have the topcoat reapplied, and you will receive a new warranty with extended warranty terms. You're basically getting a new roof at a lower cost than a restoration system.
Roof restoration offers all these benefits, and it promotes a healthy environment, provided your roof is in restorable condition. But you can keep it that way by having it inspected once a year, and by addressing any failures ahead of time.
Keep your roof in restorable condition, because it benefits you financially and it helps maintain the structural integrity of your building.
Roof Restoration Factors to Consider
1. Quality & Durability
It's only natural that you would want to know that your roof coating will be worth the investment and that it will last. We've all seen how budget roof coating peels up after a few weeks in the summer sun. However, those products are not comparable with the products used by professional flatroofers. These products are properly engineered and tested for adhesion, as that influences the warranty.
Additionally, you must consider the skills level and training of the contractor who does the installation. Furthermore, it is important to choose the right roof coating for your roofing system. This decision is best left to the professionals.
2. Accumulation of Dirt
Some types of roof coatings may accumulate dirt and this will reduce their ability to reflect solar energy, even though it does not affect the quality of the product directly. It will also not impact on the ability of the product to provide leak-free protection.

After several months, the typical solar reflectance rate of a roof restoration system will naturally reduce by up to 30%, because all types of roofing systems will accumulate dirt over time. However, annual maintenance and cleaning will mitigate the loss. If solar reflectivity is your primary focus for your new roof is solar reflectivity, a roof coating may not be suitable. You may wish to opt for the Duro-Last single-ply roofing system, which is the best in the market today. It offers a 87% EPA Energy Star reflectivity rating, even after three years.
Practicality in Northern Climates
Some people feel that a heat-absorbing black roof is more valuable than a highly-reflective white restoration roof coating. However, there are three reasons why the highly reflective white roof is still better:
Our days are much shorter.
We have very little direct sunlight.
Our roofs are covered with snow for many winter days.
A highly reflective white roof offers more cost-saving ratios in winter, than black roofs, thanks to summer's long days and the amount of direct sunlight. Black roofs cannot absorb sufficient solar heat.
As you can see, roof restoration offers a viable solution when your roof needs help. Get in touch with Flatroofers for a free quote on a roof inspection and the best advice.
Case

Studies
Important Information
Our

Testimonials