Learning Centre
The Flatroofers Learning Centre combines information from our many years in business
and is aimed at helping you make informed decisions when it comes to caring for your roof
Understanding Roofing Warranties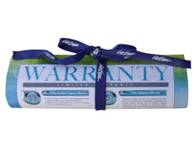 A manufacturer's attitude towards standing by its product offers great insight into the quality of a roofing product. If a roofing product does not meet the highest quality standards, it is not practical for the manufacturer to cover it aggressively. Warranties are not always geared towards protecting the owner of a building, but sometimes more towards protecting the manufacturer.
Read on to find out what you need to know about roofing cover.
Some warranties have complex names that can make it seem legitimate, but if you don't know what it actually means, you can end up in trouble. Don't fall victim to a false sense of security. Take your time, giving the following questions some serious thought before you sign on the dotted line.
What type of warranty is offered?
What is (and is not!) covered under the warranty?
What are your responsibilities under the terms of the warranty
What is the actual warranty term?
Different Types of Roofing Warranties
Every manufacturer has its own warranty, which may or may not be covered under this non-exhaustive list. Each warranty also has its own sub terms, so this list is only aimed at highlighting the most common types. Understanding the different terms will give you some insight into the types of warranties and allow you to look at it with a more critical eye.
Material-Only Warranty - This warranty offers cover that is restricted to the materials, and not to faulty installation. The warranty does not provide cover for the labor required to address items under the warranty.This type of warranty is generally offered by manufacturers, and will have a longer term than a labor only warranty.
Labor-Only Warranty - This warranty is restricted to the labor required to address the defect only, and it does not cover product failures. None of the supplies, materials or accessories required to address the problems are covered in the warranty. Installers usually offer this type of warranty and it will carry a shorter term than Material-Only or Labor and Material warranties.
Labor & Material Warranty - This warranty covers both the materials and labor required to repair defects. Workmanship may be excluded from this type of warranty. Offered by manufacturers, these warranties usually have many exclusions, and terms usually compare to those of material-only warranties.
Pro-Rated Warranty - There are many sub-types within this type of warranty, but the common theme is that they do not cover 100% of the costs of repairing roof defects for the entire term of the warranty. Some include NDL coverage and may lose their coverage over the years.
No-Dollar-Limit Warranty - There are warranties that are limited to the original installation cost, and warranties that are pro-rated. Then you get the NDL warranty that does not have a monetary limitation, and usually covers both material and labor defects. Some of these warranties also cover workmanship, while others are Material Only NDL warranties.
Specialty Warranty - Specialty warranties are often added as riders to another type of warranty. Known as Acts of God cover, they usually cover damage from high winds or hail. Specialty warranties usually have very specific terms with extensive exclusions, and are often available at additional costs.
Workmanship VS Labor Cover
It sounds like two names for the same thing, but it is not.
Workmanship coverage relates to addressing roofing system defects that may be attributed to installation failures.
Labor coverage relates to the labor costs involved in replacing or repairing defective roofing covered under the warranty claim.
Most warranties cover labor, which means that if your roof is covered under warranty, the labor costs will be covered. However, if the defect was caused by installation rather than by the product, it would not be covered, unless the warranty also includes workmanship.
Ensure that your warranty includes workmanship coverage to have peace of mind that all costs involved in rectifying the defect, including materials and labor, are covered.
The best possible warranty you could have, would be a NDL warranty with additional workmanship coverage.
Responsibilities & Costs for the Roof Owner
It is not uncommon for roofing manufacturers to require annual inspections. Inspection may be carried out by the manufacturer, at fixed cost. They may require the original installation contractor to perform the inspection, or they may allow the building owner to perform the inspection to specific guidelines, and submit it on the manufacturer's paperwork. Failing to address the above terms may cause the warranty to be voided.
Many warranties require that, in the event of a storm event, a written inspection report be submitted within a limited period of time, in order to address any storm damage before it becomes an issue. Be sure to educate yourself about the warranty you choose in order to avoid voiding your warranty.
Most often, manufacturers will allow for warranty transfers, at an additional cost, provided certain compliance requirements are met.
Things that are Not Covered in Most Roofing Warranties
When you pay a lot of money to have a roof installed, you expect quality coverage, but that is not often the reality. You can further distinguish the quality of your cover by identifying the items that are usually not covered, and also to help you decide on the best roofing product for your building. Items commonly not covered, include:
Acts of God - Natural disasters, such as earthquakes, tornadoes, hurricanes, fires floods, high winds and hail are usually not covered by the typical warranty.
Ponding Water - A common exclusion, there are many definitions for ponding water, but if your manufacturer offers this coverage, they will include the definition in your contract. It usually involves water that has remained on the roof for 48 hours or more after the most recent rain has stopped.
Consequential Damages - Roof failure can cause significant damage in a building, one of which is most commonly water leaks or flooding. This, in return, can cause damage to computers, walls, carpets and furniture. Most often, manufacturers exclude consequential damage from their cover.
Unauthorized Repairs - Most warranties require that repairs be made by authorized roofing manufacturers.
Replacement - Most warranties exclude replacement costs, but offer repairs to repair leaks.
Using Warranties to Compare Roofing Products
Roofing products and warranties differ, but you can tell a lot about a product by taking a fine tooth comb to the warranty. While it is not practical to offer extensive warranties on items beyond their control, you want to be sure that you are not short-changed. Weigh up your options carefully with a clear mind and decide on the product that offers the most comprehensive coverage with the manufacturer that makes you feel most at ease with your decision.
Try to ascertain their implications through the warranties they offer.
No matter what your commercial roofing needs, Flatroofers Canada is on your side, providing a high quality range of roofing systems with sensible warranties.  Our flat roof system can be installed over any Flat Roof or Sloped Metal System at a tremendous cost savings over typical roof replacements…and carries a 15 year written manufacturers' warranty.