Learning Centre
The Flatroofers Learning Centre combines information from our many years in business
and is aimed at helping you make informed decisions when it comes to caring for your roof
Effects of Winter on Your Roof
Effects of Winter on Your Roof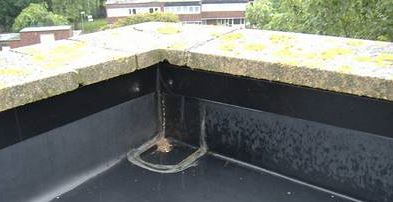 You need your roof to provide shelter in the cold Ontario winter months. However, winter takes a toll on your structure, particularly if it already deteriorating. The main culprits, are ice and freezing temperatures.
When the night time temperatures dip below freezing, and the daytime highs rise above 4 degrees, it creates thermal shock. Heat causes the structure to expand, while freezing temperatures cause it to contract. The greater the fluctuation, the more contraction and expansion, which places immense strain on the structure.
Like a rubber band that is stretched to almost breaking point until it loses tensile strength, a roof can also withstand only so much before it reaches breaking point. Your roof may not be designed to handle such extremes.
An older roof that already shows signs of deterioration, is more likely to fail more readily, and will do so exponentially sooner than a new roof. The temperature fluctuations will weaken the structure of your roof, even in summer, when there may be a 4 degree fluctuation between nighttime lows and daytime highs.
Essentially, your roof takes a toll every day, week, month and year. It causes expansion joints to crack and separate, seams to tear, roofing materials to break down and for your roof to deteriorate. In the end, your roof will fail.
How Ice Affects Your Roof
Ice is one of the most destructive elements, as the first layer tends to melt due to the relative heat of the home, and the water infiltrates the cracks and crevices of your roof. As the temperatures drop and snow continues to fall, the watery snow in the cracks becomes frozen, which causes it to expand, thus pushing the crevices further apart.
On a warmer day, when the snow starts to melt, the melting snow also runs into the crevices and cracks, just to freeze and expand again once the cold nighttime temperatures arrive.
Much like thermal shock, the freezing and thawing of the snow will exacerbate the effects on your roof. The effects will be worsened on an already damaged, old roof.
Thermal shock, contraction and expansion is unavoidable in the Ontario climate, but you can reduce the effects thereof by investing in a white, highly reflective roof to reduce the effects of thermal shock. Adequate drainage will help snowmelt to drain from the roof before it can freeze once again.
Since every roof is different, it is not as simple as providing one umbrella solution for all roofs. The best way to ensure that your roof is ready to handle winter, is to get in touch with Flatroofers for a rooftop evaluation. A qualified inspector will assess your roof to gain insights into your particular needs and advise on your specific requirements.