Case Study: Hotels & Motels
Our latest stories...
Case Study: Hotels & Motels
Hotel & Motel Roofing Systems
When it came to finding the right roofing system for his sister's family-owned business, Mike Cooper, operations manager for the Sea Ranch Motel in Carolina Beach, North Carolina was what you would call a "true sceptic".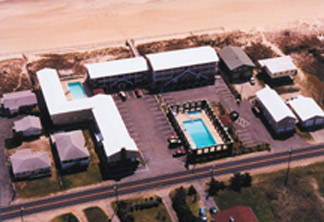 Sea Ranch Motel in Carolina Beach, North Carolina
"I was searching for something durable that would last a very long time, through even the worst storms," recalled Cooper.
After he reviewed a completed Duro-Last installation, Cooper agreed to try Duro-Last on his home, a little cottage adjacent to the motel. It didn't take long for Cooper to see the value of the Duro-Last roofing system. The Duro-Last roof protected his home, reduced energy costs and, according to Cooper, insulated and "sound-proofed" the cottage from road noise.
That was all Cooper need to know. He soon placed an order with D. Thomas Roofing of Wilmington, North Carolina for a Duro-Last roof. Since the 43-room motel has been covered by Duro-Last, the threat of storms and the resulting loss of business is no longer a concern to Cooper.
"The Duro-Last roofing system is an amazing product," noted Cooper. "After storms pass through our town, down-time for my business is non-existent now. We can remain open for business 24-hours a day, seven days a week."
Telephone:
Toll Free 1.800.307.3719
Monday to Friday 9:00am to 5:00pm (EST)
Saturdays, Sundays and holidays please leave a message.
A customer representative will contact you within 24 hours of the first business day.
Email: info@flatroofers.ca