Flat Roofers – Tar & Gravel Systems
Flat Roofers are your flat roofing experts, so if you're thinking about installing Tar and Gravel or any other roofing system, give us a call. Our Roofers are Tar and Gravel experts with 100's of years of combined experience. Flat Roofers is serious about tar and gravel roofs. The application of Tar and Gravel requires $100's of thousands of dollars in specialized equipment and specialty insurance. We do complete installations, repairs, and full replacements.
If you require snow removal during the winter or repairs or upgrades to your ventilation or drainage systems, we can help you with that too..
Flat Roofers Retrofit Roof Systems from Duro-Last
Don't let a leaking roof damage your inventory! Re-roof now before the spring thaw, fall rain and the winter snow damages your roof. Flat Roofers can waterproof any type of damaged commercial or industrial roof with singly-ply Duro-Last® PVC, which is guaranteed for 15-20 years, saving you time and money and keeping your inventory safe. Read more on how we can re-roof your commercial business! Book a Fall Free Roof Inspection today! Ask about our Spring / Fall / Winter specials.
can be installed over any Flat Roof or Sloped Metal System
...at a tremendous cost savings over typical roof replacements…and carries a 15 year written manufacturers' warranty.
Check out our Video on the Flat Roofers Process - with a PVC Membrane
---
This is what we do:
Our roofing story start to finish shows a typical Tar and Gravel plant or warehouse where we can take a Duro-Last PVC membrane and go right over the top saving money and offering up to a 20 year Warranty. No need to tear off the old roof (unless its saturated), no heavy disposal costs and environmental waste added to landfills.
---
Our Warranty
Your roof will obtain a 15-20 year warranty once complete. Duro-Last will issue a warranty and inspect all roofs. And make any necessary fixes before the warranty. Your roof should last from at least 25 years up to 50 years. All roofing systems supplied by Flatroofers use a state-of-the-art manufacturing processes. We choose our suppliers carefully to ensure that we supply only the very best, most durable roofs, and to minimize the risks of problems for our clients.Problems with these roofs are rare, but should something occur, it can be costly to repair. That means that the risks are low, but the cost of not having a warranty, can be high.
---
Our Service Area
We serve customers coast to coast in Canada. Our latest client base includes customers from Ontario, Alberta, Saskatchewan and beyond. Serving all of Ontario and cities in Ontario including (but not limited to): Toronto, Scarborough, Mississauga, Oakville, Markham, London, Guelph, Cambridge, Kitchener, St Catherines, Barrie, Orillia, Sudbury, North Bay, Ottawa, Kingston, Kanata, Pembrook, Bellville, Bowmanville, Calgary, and pretty much anywhere in Canada...
---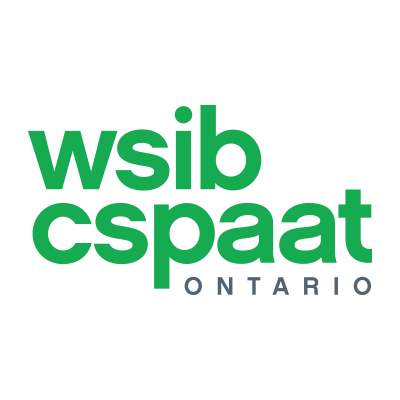 Safety is #1 – We have an extensive insurance policy – insurance is our number one priority and all Flat Roofers jobs are WSIB Insured. Flat Roofers carries extensive Insurance policies on all projects
All Workers have Fall Protection Certifications
---
Honors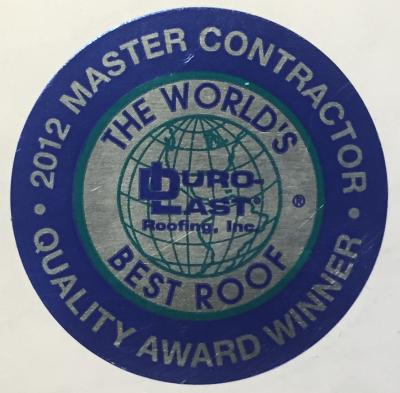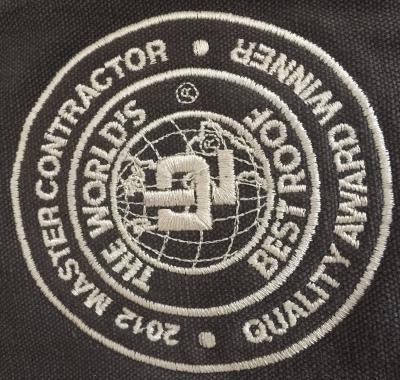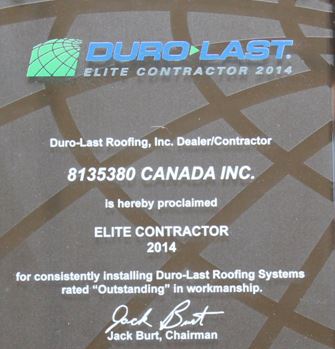 ---
Benefits

No need to TEAR OFF the old roof "retrofit" with a Duro-Last PVC single ply roof and save lots of money plus the benefits are very tangible;

Reliable

Flat Roofers Managing Partners have a history in commercial roofing dating back to 1985 and support the concept of roof retrofitting where applicable as opposed to a complete "rip off and replace" or re-roof.

Materials

Flat Roofers only uses world class materials on all roofing projects and does not cut corners to reduce costs
Identify

Your Roof
The Flat Roofers

& Advantage
Tremendous cost savings over re-roofing
Up to a 20 year warranties and beyond are available
Years of longevity given to the existing Tar and Gravel Roofs and all BUR systems
Maximize R-Value
Reduction in cooling costs with up to 80% reflectivity with new White roofs
Minimal disruption to the work environment during its application
Minimal waste going to landfill
No toxic odours or vapours
Ease of future repairs
No increase in roof weight load
Reduced long term maintenance and roof repair costs
Energy Star rating and Green Building rating
Our

Services

Flat Roofers has specialists in all areas of Residential roofing including Shingles, Tar and Gravel, and asphalt. While Flat Roofers is best known for its Commercial roof coatings these same coating products can be very successfully used on your home.

Winter conditions such as snow, ice, thawing and freezing create roof issues and winter roof leaks. For immediate help with roof repair and leaks contact us now at 1.800.307.3719
Flat Roofers only uses world class materials on all roofing projects and does not cut corners to reduce costs.
Flat Roofers goal is to help preserve our environment and your pocket book. Many roofs whether Steel, Metal, Tin, Tar and Gravel, BUR, 2 ply and 4 Ply Built-up roofs, Rolled Asphalt, Single Ply PVC, TPO or EPDM or made of just about any Roofing Materials that have begun to leak for various reasons can be salvaged with a retrofit system.
Call Us at 1-800-307-3719