Single Ply TPO Roofing
Our latest work...
TPO Roofing
Single TPO Roofing Solutions
No mater what roofing system you have, if you have a problem roof we have a solution. We offer any solution based on your roofing style. Flat Roofers roof solutions are specially formulated according to the roofing surface, whether it be a typical single ply TPO roofing . So let Flat Roofers inspect your roof for free and help you identify the most cost effective way to protect your most important asset - your roof.
If your single ply roof is cracking, pealing or blistering or has ovious damage like serious ridging- Flat Roofers has a solution for you. Whether your roof is TPO, EPDM or PVC your roof may need a repair, maintenance or require another solution.
Repairs can give a roof longevity, however if a roof is past it's point of repair or salvage or too expensive to repair we may recommend re-roofing. Additionally if your roof is beyond maintenance or is >20 years old, you may require a roof retrofit.
Before and After - Single Ply TPO Roofing

Here is your roof
Here is your roof with our solution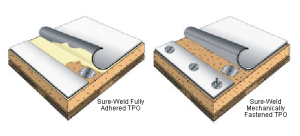 For more information or to discuss how Flat Roofers can help
with your PVC / TPO / EPDM Flat Roof contact Flat Roofers.
---
Telephone:
Toll Free 1.800.307.3719
Monday to Friday 9:00am to 5:00pm (EST)
Saturdays, Sundays and holidays please leave a message.
A customer representative will contact you within 24 hours of the first business day.
Email: info@flatroofers.ca
Flat Roof

Services
Important Information
Our

Testimonials