Tar and Gravel / Flat Roof
Our latest work...
Tar and Gravel / Flat Roof Solutions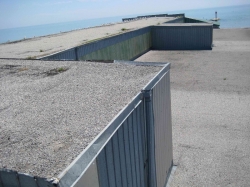 Tar and Gravel roofs are still one of the most popular options in Canada. This is not to say that the other roof systems presented on our web site are inferior they are all different and there is a roof solution and budget for every Customer.
What is a built-up roof (BUR) or Tar and Gravel Roof?
BUR is one of the oldest roofing systems, which has its origins over 100 years ago. BUR offers the added protection of multiple layers of asphalt which performs well in extremes of heat, cold, wind and snow.
It is also easy to repair. It consists of multiple layers of roofing materials with asphalt or bitumen in-between each layer. 
It is a very reliable roofing system while meeting economical demands. 
Very Durable due to multiple layers offer high protection
Lasts a long time up to 30 years
Cost effective (when installed by professionals)
Outstanding performance throughout vast Canadian Climates
Easy to repair and low maintenance
Effective reduction in heating and cooling costs by using surfacing materials 
It is a Thicker and durable roof membrane
Can be applied with hot or cold adhesives 
Provides excellent waterproofing and ultra-violet protection
More Tar and Gravel Flat Roofing Education
You don't have to be a roofing expert to notice that there are a lot of different styles of buildings and roofs. The styles of construction change from decade to decade and vary greatly by region. For one, tar and gravel flat roofs gained popularity in the 50's and 60's, in commercial building roof systems and this trend carries on for a very good reason.
Flat roofs are ideal for factories, malls, schools, and other large buildings because they are simple to build. Tar and gravel was the preferred roofing material for flat roofs and remains an excellent option to this day.
Our Roofers are Tar and Gravel experts with 100's of years of combined experience. 
We can state with confidence that Tar and Gravel is a staple of the Canadian commercial roof because it lasts and endures our extreme seasonal weather changes.
Tar and Gravel may seem "old school", but we want to see tar and gravel roofs stay as a Canadian roofing staple. Tar and Gravel is a specialized roof system with many great features and manufacturers continue to make improvements in the quality of the materials used to make Tar and Gravel roofs.
Flat Roofers is serious about tar and gravel roofs. The application of Tar and Gravel requires $100's of thousands of dollars in specialized equipment and specialty insurance.
How much does a Tar and Gravel roof cost$$$?
Each roof is unique and there are a lot of things that go into your roof quote besides just the roofing material. That can include things like
Complexity of the project and condition of the existing roof
Removal and disposal of the old roof
Size of the job in terms of square footage
Roof penetrations such as chimneys, vents, skylights, hatches,
Insulation thickness and type
Perimeter Parapet walls
Repairs to the roof deck if required
Repairs to the HVAC curbs and wall flashing.
Flat roof replacement is a labour-intensive job but at Flat Roofers we are experts in this type of installation so we are very cost effective in terms of a solution.
Call Flat Roofers for an Expert Installation or Repair of Your Tar and Gravel Roof
Flat Roofers are your flat roofing experts, so if you're thinking about installing Tar and Gravel or any other roofing system, give us a call.
We will do a roofing inspection and give you recommendations on the best type of system for your unique needs.
We do complete installations, repairs, and full replacements. If you require snow removal during the winter or repairs or upgrades to your ventilation or drainage systems, we can help you with that too.
Give us a call at 1-800-307-3719 or email info@flatroofers.ca to find out more about your Tar & Gravel roof!
---
4Ply Tar and Gravel Commercial Roof Installation Sample
---
Telephone:
Toll Free 1.800.307.3719
Monday to Friday 9:00am to 5:00pm (EST)
Saturdays, Sundays and holidays please leave a message.
A customer representative will contact you within 24 hours of the first business day.
Email: info@flatroofers.ca
Flat Roof

Services
Important Information
Our

Testimonials