Toronto Commercial Roofing Contractor
Flat Roofers is a reputable Toronto commercial roofing contractor you can rely on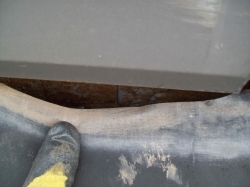 Flat Roofers is a reputable Toronto commercial roofing contractor you can rely on. They specialize in re-roofing to help prevent roof leaks from damaging your inventory. Waterproofing your roof before the fall rain, winter snow and spring thaw can save your business a fortune in damages.
Using single-ply Duro-Last® PVC, Flat Roofers can waterproof your damaged industrial or commercial roof. It is also guaranteed for up to 20 years.  Duro-Last® roofs have been touted as the best commercial roofing system, and prescribed for all low-sloped or flat roofing applications. It is extremely durable and watertight.  Duro-Last® roofs are highly reflective, and resistant to high winds, fire and chemicals. Virtually maintenance-free, it is no wonder that it is the preferred method for waterproofing commercial roofing.
Flat Roofers can retrofit your existing roof with single-ply Duro-Last® PVC without having to tear off your old commercial roof, thus saving you money and delivering tangible benefits:
Minimal disruption to business operations
Minimal roofing maintenance required
Cost-effective solution to commercial roofing waterproofing
Peace of mind, knowing that your premises are covered.
Flat Roofers Managing Partners (est. 1985) has a proven track-record  as a Toronto commercial roofing contractor. They take every effort to ensure the best quality materials are used in every roofing project, and pay close attention to detail, which is why they can guarantee quality workmanship and materials.
If you're looking for a Toronto commercial roofing contractor, look no further than Flat Roofers.