Duro-Last Case Studies
Our latest studies...
Duro-Last Case Studies
Case Studies
Factories, schools, churches, government offices, and businesses of all types have chosen Duro-Last because our roofing system is the "World's Best Roof"®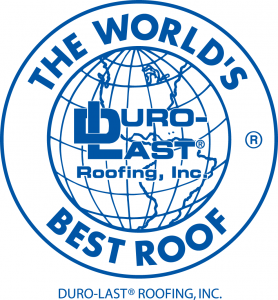 Duro-Last's custom-prefabricated, reinforced, PVC roofing system is ideal for any flat or low-sloped application. Extremely durable and easily installed by authorized contractors without disruption to daily operations, the Duro-Last single-ply roofing system is also leak-proof, resistant to chemicals, fire and high winds, and virtually maintenance-free. Over a billion square feet of the Duro-Last PVC roofing system membrane have been installed on all types of commercial, industrial, and institutional buildings throughout North America.
Prefabrication of Duro-Last's PVC roof membrane not only reduces the material waste associated with the installation of most rolled systems, it also eliminates 80-85% of the typical on-site, labor-intensive seaming required for other single-ply roofing systems. The Duro-Last roofing system also comes complete with all accessories included.
Prefabricated
Every Duro-Last single-ply roof is measured and manufactured to exact size, accommodating every rooftop penetration. Prefabricating the vinyl roof membrane in our controlled factory environment eliminates up to 85% of seaming that is done on-site during rooftop installation, and improves the long-term performance of the roofing system. This precise attention to detail ensures an excellent fit and delivers worry-free, leak-proof protection. Duro-Last can even assist your architect, facilities or maintenance personnel in developing specifications for your roofing project.
Durable
The Duro-Last roofing system, made from a PVC membrane, is resistant to fire, chemicals, grease, high winds, and punctures, and easily accommodates wide temperature extremes. Duro-Last's custom flashing components – made from the same vinyl roof membrane as our deck material – resist ponding water and help solve roof problems before they can occur. Plus with Duro-Last's available Roof-Trak® Protective Walkway System, heavy equipment and maintenance traffic are easily managed.
Installed With No Disruptions
Building occupants will hardly know a new roof is being applied, because installation is quiet and safe. Our PVC roof membrane is mechanically-attached to the deck; edges and vinyl roof components are heat-welded together to complete the watertight, monolithic roofing system installation. There are no loud machines, no hazardous materials, no noxious fumes, no hot tar, and no mess. Because it's made from lightweight vinyl, a new Duro-Last roofing system can often be installed over an existing roof without an expensive tear-off, virtually eliminating dust or falling debris that could interfere with building activities or damage sensitive equipment.
Energy-Efficient
PVC roofing systems make an important contribution to sustainable buildings, and Duro-Last is proud to be a charter partner in the EPA's ENERGY STAR® Roof Products Program. Duro-Last is a leader in cool roofing solutions, and our Cool Zone® brand addresses the growing nationwide interest in sustainable roofing systems.
Of the white, single-ply products rated by the ENERGY STAR program, only the Duro-Last Cool Zone roofing system has retained reflectivity of greater than 85% after three years of weathering (based on ENERGY STAR roof products testing criteria). The high sustained reflectivity delivered by our white PVC roofing membrane is saving significant energy and money for building owners all over the United States.
From lowering a building's energy consumption to helping facilities obtain LEED® credits to reducing the urban heat island effect, the Duro-Last Cool Zone roofing system is a leading sustainable building product.
Backed By The Industry's Best Warranties
Duro-Last is so confident in the durability of our single-ply vinyl roofing systems that we protect commercial and industrial installations with the best warranties in the industry. Our standard, comprehensive 15-year full warranty is transferable, has no exclusions for ponding water, and provides coverage against consequential damages that result from defects in the Duro-Last PVC material. Duro-Last also has 20-year warranties available.

---
For a closer look at how Duro-Last has addressed the specific needs of our customers, follow the links at the top of this page.
---
Telephone:
Toll Free 1.800.307.3719
Monday to Friday 9:00am to 5:00pm (EST)
Saturdays, Sundays and holidays please leave a message.
A customer representative will contact you within 24 hours of the first business day.
Email: info@flatroofers.ca
Latest

Projects

Visit this page for our latest projects
Our

Testimonials
"Doug, I just wanted to say "THANK YOU" to you and your team. Working with Flat Roofers has been incredible! Working with a team that can walk me through the free rooftop inspection process was invaluable!."

Paul Carns Property Manager

"It was great working with the Flat Roofers team. As new rooftop contractors, they led us through the process beautifully and were there to give us their advice and input whenever we asked."

John Huff Landloard

"Doug: Hope you are having a great day! Mahar, Tim & crew have done a great job with rehabbing my Toronto commercial property. Tim is very good with keeping me updated on progress. All is appreciated."

Dan O'Neil Property Manager Lead