Learning Centre
The Flatroofers Learning Centre combines information from our many years in business
and is aimed at helping you make informed decisions when it comes to caring for your roof
Roofing Materials
PVC, EPDM, or TPO: Choosing the Right Roofing System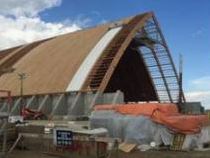 Need a new roof? You're about to discover a world of choices, often best left to a professional roofing contractor like Flat Roofers Commercial Roofing. If you're building a new structure from scratch, it may be a good idea to leave the decisions to your architect. Whichever option you choose, it pays to learn as much as you can, because it will equip you with the knowledge you need to ask pertinent questions and make informed decisions.
In this article, we will discuss the various types of roofing materials, but it is important to also bear in mind the most important factor in roofing: installation. Even the best product in the world will fail if it is not properly installed. Roofing success therefore depends on quality roofing product + expert roofing contractor. You often get what you pay for.
Roofing Terminology: PVC, EPDM, and TPO
TPO - Thermoplastic Polyolefin: This material is part of the rubber roofing family, and consists of a blend of ethylene-propylene rubber and polypropylene.
EPDM - Ethylene Propylene Diene Monomer: EPDM is a synthetic rubber product derived from natural gas and oil. When combined with diene (unsaturated hydrocarbon alkene which contains two carbon-to-carbon double bonds), it creates a flexible EPDM membrane.
PVC - Polyvinyl Chloride: This material is created by a process known as polymerization. Polymers can be natural or synthetic compounds that contain large molecules, which in turn consist of smaller chemically-bonded molecules (monomers). PVC roofing is made by the gaseous reaction between ethylene, oxygen and hydrochloric acid.
Commercial roofing contractors use a range of other acronyms, including:
CSPE - Chlorosulfonated Polyethylene
PIP - Polyisobutylene
KEE - Ketone Ethylene Ester
Which roofing product should you choose? Let's look at the differences.
Difference Between Different Roofing Materials
About TPO
TPO is relatively inexpensive and white (versatile) which makes it the most common roofing product on the market. However, just because something is cheaper, does not mean it is the best; but it is a viable option.
Firestone, the manufacturer of TPO and EPDM indicate not all TPO products are the same. They noted that, unlike some other manufacturers, Firestone formulations are not altered to cause rumoured issues (deterioration).
Another factor in the quality of TPO, is the method of attachment. It can either be mechanically-attached (screwed to the structure) or glued (fully-adhered). The membrane can also be heat-welded or glued at the seams or details. It is not easy to heat-weld, but professional roofing contractors can do this successfully.
TPO membrane is laminated. The top layer is not the same as that at the bottom. The top layer (wearing surface) is usually white and the bottom gray. Some manufacturers add a fiber reinforcement to the TPO membrane to increase durability and strength, however, it may add rigidity that will make it harder to install.
Compared to other materials, TPO comes on a relatively small roll, which means that, in order to successfully install a roof, you will have to create many seams. TPO is available in a range of thicknesses, however, thicker does not necessarily mean better quality.
While TPO does have its place, especially since it is the cheapest. Your decision should be based on your priorities and a good balance of cost, warranty coverage, durability and quality. Also, TPO has a reasonable resistance to microbial growth, vegetable oils, hydrocarbon and animal fats.
About EPDM
EPDM can either be dried out and vulcanized (cured into sheets) or it can be left in a semi-solid state. Vulcanized EPDM is typically used as a roofing membrane, and non-vulcanized EPDM is used for flashing of the cured membrane, or for detail work.
A black synthetic rubber, EPDM is black, which is sometimes frowned upon, mainly because the federal government and local business owners have been pushing it. In response, EPDM manufacturers have started pushing white-on-black EPDM. Still, the bulk of EPDM roofs are still black, because:
Black EPDM is more durable than the white-on-black EPDM.
There is a perception that EPDM is cheap, because it is "rubber".
The common misconception is that it is better to have a black roof in the cooler northern climates.
EPDM is a good roofing membrane with a solid track record.
What is White-on-Black EPDM?
A laminate product, the bulk of the membrane is made up of black EPDM with a white lamination on top. The laminated part contains added titanium oxide to produce the white color.
Why Install a Black EPDM Roof?
Properly installed, a black EPDM roof is a good match for temperature fluctuations, ozone, abrasions, UV rays, snow and rain. However, the seams can shrink and pull apart in higher temperatures, which is why roofing contractors often add a reflected elastomeric topcoat that keeps the membrane cooler and adds durability.
Much more costly than standard EPDM, it would be better to opt for a white roofing membrane such as PVC or TPO if you wanted a white roof. Many EPDM manufacturers have discontinued their lines of WB EPDM due to global warming and similar issues.
It is best to avoid contact between your EPDM material and petroleum-based products, vegetable and animal oils. Provided the membrane is properly installed, it can last for several years, especially if you follow an extensive repair and maintenance program.
The installation process can add to the costs, since it is usually fully adhered (glued). The seams are either taped or glued along with the rest of the roof. The glue is not cheap, and the underlying insulation, which is mechanically attached underneath, will require additional fasteners.
Rolls of EPDM are large, which reduces the amount of sheets and seams required.
About PVC
PVC roofing membranes are relatively hard (not as hard as drainage or irrigation pipes), but plasticizers are added to enhance the pliability of the material. In most cases, the membranes are mechanically attached, but it is possible to find ballasted and fully-adhered PVC roofing systems. In most cases, PVC membranes are heat-welded at the seams to create a durable monolithic structure that is able to withstand your building's constant contraction and expansion. A seam that is properly heat-welded, is always more durable than a taped or glued seam.
PVC roofing membranes offer excellent heat resistance and anti-puncture qualities, which makes it compatible with asphalt-based roofing products. However, it is important to install separator sheets to prevent the two materials from coming into direct contact with one another.
Available in different thicknesses, PVC is relatively light and it comes in a number of different colors. It offers excellent resistance against plant root penetrations, animal fats and bacterial growth.
Due to the structure of the membrane and the integrity it offers, it is relatively quick and easy to heat-weld, with better results than what TPO offers.
Expert roofing contractors often work with PVC roof system manufacturers who can custom prefabricate your roofing membrane according to your needs. Once the contractor has provided the correct measurements of your roof, walls, curbs and penetrations, the roofing membrane is custom-designed provide both the benefits of larger sheets, with the added benefit of prefabricated protrusions, thus eliminating up to 85% of field seams, which are typically the weakest part of any roofing system.
PVC roofing systems offer out-of-the box reinforcement and structural integrity. While PVC is slightly more expensive than TPO and competitive with EPDM, it meets the criterion of discerning property owners who value quality.
Roofing Materials in Summary
Now that we have covered the basics, and you have a general understanding of the differences, you are in a much better position to make an informed decision. Also, consider the following questions before you settle on a roofing material:
Should the roof be ballasted, fully-adhered or mechanically attached?
Should the membrane be reinforced or unreinforced?
How should it be reinforced?
Should the system be glued, taped or heat-welded at the seams?
Which roofing membrane manufacturer offers the best product?
Is there a manufacturer's warranty?
If you don't have time to learn everything there is to know about roofing, you may want to consider getting in touch with Flatroofers Commercial Roofing. We are a leading commercial roofing contractor with a lifetime worth of collective experience as professionals in the field.
We are authorized Duro-Last installers Duro-Last is a single-ply PVC roofing membrane, currently the most-durable single ply product and also the best-engineered on the market.
Making the Best Roofing Choice
At the end of the day, the best roofing system for your needs hinges on a thorough evaluation of your roof's current condition. But here's what you should not do:
Don't buy a black roofing membrane and paint it white.
Don't forget to compare quality, manufacturer warranties and installer credentials.
Also ask the following questions:
Should the building be sold, will there be a transfer of warranty fee?
Will the manufacturer charge inspection fees to keep the warranty in force?
Do specific exclusions, or inclusions for ponding water apply?
Does the warranty offer 100% coverage for the entire term, or is it prorated?
Does the warranty cover consequential damages?
Is the warranty heavily skewed in favor of the manufacturer?
We at Flatroofers Commercial Roofing can help you decide on the best roofing system for your needs after an initial onsite evaluation and thorough understanding of your specific roofing goals. With us, you will never spend a lot of money on an inferior roofing system. In fact, after thorough evaluation, we may find that your roof does not really need to be replaced. In that case, we will help you save money by supplying an effective restoration solution that can increase the lifespan of your existing roof.
About Ballasting
In addition to fully-adhered or mechanically attached roofing systems, PVC, EPDM and TPO can all be ballasted, which means that it is held in place by aggregate. The aggregate usually consists of stones of at least 1" in diameter, which is heavily applied throughout the span of the roof to a minimum of 10 pounds per square foot. During winter, this weight, combined with water or snow loads caused by clogged drainage systems, can place tremendous strain on your roofing system.
Case

Studies
Important Information
Our

Testimonials