Learning Centre
The Flatroofers Learning Centre combines information from our many years in business
and is aimed at helping you make informed decisions when it comes to caring for your roof
Roofing Installation Methods
The wrong installation method can cost you dearly. Let Flat Roofers Commercial Roofing help you choose the right solution for your needs.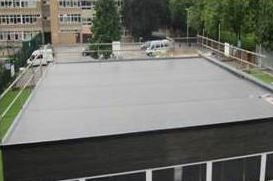 Your existing roofing system will determine the installation method you require, since not all methods apply to all roofing systems. For instance, mechanical attachment does not apply to spray polyurethane foam roofing systems.
Common roofing installation methods include:
Mechanical Attachment - This method applies to systems which use substrate board, a taper system, insulation and coverboard, all of which must be attached to the roof substrate using screws or nails.
Fully-Adhered Roofing - A glued roofing system involves gluing the cover board, insulation and other components to the roofing membrane. However, the membrane must not be glued directly to the substrate; instead, it is glued to the next component below, which is often the insulation or cover board. Sometimes, the cover board and insulation is mechanically fastened to the substrate before the top layer of roofing membrane is glued to the top of the cover board or insulation facer. Unfortunately, this method often cancels out any benefits that come from a total, fully adhered system.
Ballasted - A ballasted system is usually held in place by stones, rocks or another type of weight. It often involves square concrete pavers placed a few inches apart, or side-by-side.
Roll-Applied - A liquid-applied membrane is often used in restoration systems, whereby the roofing material is rolled in place using paint rollers or squeegees.
Spray Application Roofing - This method applies to spray polyurethane foam (SPF) or restoration systems. The roofing material is sprayed onto the roof, much like a power washer that sprays water. However, spray application uses less pressure and instead of water, it sprays roofing material.
To find out more about which roofing installation method is best for your needs, speak to Flat Roofers Commercial Roofing today.
Case

Studies
Important Information
Our

Testimonials