Learning Centre
The Flatroofers Learning Centre combines information from our many years in business
and is aimed at helping you make informed decisions when it comes to caring for your roof
How does membrane thickness influence the decision?
When choosing a roofing membrane, you may come across many different opinions as to whether a thick single-ply roofing membrane or a thinner membrane is best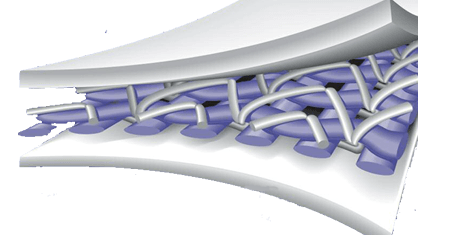 In many cases, bias from manufacturers and suppliers may influence the opinion. In this article, we will discuss the role of thickness in choosing the best single-ply roofing. Of course, you could rely on your commercial roofing contractor's expertise (like Flat Roofers Commercial Roofing), but maybe you would like to add to your knowledge base. Either way, here is the information.
As you read through the article, you will see one message coming through strong and that is that product quality is more important than thickness. Not all products are created equally, which is why you should first choose your product and then the thickness of the membrane. Product choice is the most important aspect of your decision.
Many people mistakenly assume that thicker is better, but that's not always the case. Ask yourself:
What am
I trying to accomplish with my new roofing system?
Am I
looking for the cheapest system to buy time?
Am I
looking for a good compromise between long-term durability and cost?
What
are my concerns in terms of protection against the elements?
Am I
looking for an energy efficient product?
Let's look at thickness for a minute: Compact discs are much smaller and thinner than LPs, yet they offer superior sound. Your mobile phone is much smaller and thinner today than the one you had first, yet it offers more functionalities and features. The nature of technology is that it constantly becomes smaller, yet better and the same often applies with single-ply commercial roofing membranes. The secret lies firstly in the quality of the material, and secondly, the quality of workmanship.
Roofing Membranes
Are Often Reinforced
Most types of roofing membranes including TPO, have reinforced areas. It generally uses an interlaced matrix of small treads, known as a scrim.
Roofing Membranes Have a Wearing Surface
The wearing surface is the area above the scrim. The wearing surface wears away with time due to the natural aging process, and due to foot traffic. Exposure to harsh conditions will speed up the wear of the product.
Some manufacturers will increase the thickness of the membrane by increasing the thickness of the wearing surface. That's why some people opt for thicker wearing surfaces, thinking that it offers more protection in the long term.
When TPO chalks, it is really the wearing surface that is wearing away, leaving a powdery white substance that signifies the deterioration of your roof. While every single-ply roofing membrane requires a wearing surface, some are better engineered and will withstand wear for longer. That shows the thinner membranes can perform better than thicker types, and tat thickness may actually indicate weakness.
If foot traffic is of concern to you, consider installing a thinner single-ply membrane with strategically placed walk pads.
As for hail damage, what matters is the material underneath the membrane. Speak to Flat Roofers Commercial Roofing about the best underlayments for use under a good quality single-ply roofing membrane.
It's Not the
Thickness, But the Quality of Commercial Roofing Product That Matters
Quality Single-Ply Roofing
Requires Good Seams
An important issue that should not be neglected when installing commercial roofing, is the fact that seams must be glued or taped securely. Even the best roofing membrane is only as good as its seams, which is why experienced commercial roofing contractors usually heat-weld the pieces of roofing membrane together. EPDM (rubber) roofing is usually taped or glued, and PVC or TPO can be taped, glued or heat welded.
Ideally, it is best to keep seams to a minimum, in order to avoid potential problems. Seams create vulnerabilities as they are most susceptible to leaks and other issues.
Duro-Last is the Leader
in Single-Ply Commercial Roofing
Duro-Last single-ply roofing is the same right through with no fillers. The product above and below the scrim is exactly the same, which makes the entire thickness of the membrane a wearing surface. It is not laminated using different components, which means that the quality is the same right through.
Duro-Last has a weft-inserted scrim with a 14 x 18 threads per inch density, which makes it one of the industry's highest. The product almost always exceeds comparable products in anti-cracking standards, crazing, flexibility, elongation and tensile strength.
While we are authorized installers of EPDM and TPO products, we have seen the benefits of Duro-Last. It is a thinner product, but it is also better engineered.
After careful commercial rooftop evaluation, we can provide you with valuable insights into your roofing needs. You don't necessarily require a new roof. We may be able to restore it at a much lower cost. Call us today for more information.
Case

Studies
Important Information
Our

Testimonials